A new study has raised the question whether or not too many people are being diagnosed as having depression. While Professor Gordon Parker, a psychiatrist from Australia says that the threshold for clinical depression is too low, Professor Ian Hickie says otherwise.
Prof Parker carried out a study, following 242 teachers. 15 years into the study, he noted that 79% of the people had met the symptom duration criteria for major, minor or sub-syndrome depression. This caused him to conclude that it is normal to be depressed, reports the BMJ. He also warned that over diagnosis of clinical depression could lead to a diagnosis of it becoming less creditable.
However, Prof Hickie states that if increased diagnosis and treatment has actually led to demonstrable benefits and is cost effective, and then it is not yet being over diagnosed. He insists that diagnosis and treatment has led to a reduction in suicides and increased productivity. He also adds that due to this, there has been a reduction in the stigma attached to being depressed. 
Stress is bad not only for your blood pressure and your heart, but also,  as it turns out , for your mouth, a literature review has found. The review was conducted by Daiane Peruzzo, PhD, who found that 57% of studies included in the review showed appositive relationship between periodontal diseases and psychological factors such as stress, anxiety, depression and loneliness.
Researchers speculate that the hormone cortisol may play a role in the possible connection between stress and periodontal disease. A previous study had found that increased level of cortisol can lead to increased destruction of the gums and jawbone due to periodontal disease. It is well known that periodontal disease, if left untreated, can ultimately lead to bone loss or tooth loss.    
"Individuals with high stress levels tend to increase their bad habits, which can be harmful to periodontal health. They are less attentive to their oral hygiene and may increase their use of nicotine, alcohol or drugs, "explained Preston d Miller, Presidence American Academy of periodontology.
"Patient should seek healthy way to relieve stress through exercise, balanced eating, plenty of sleep, and maintaining a positive mental attitude, "he added.
Peruzzo now calls for more research to be done in this field." More research is needed to determine the definitive relationship between stress and periodontal diseases," she said.
"However, patients who minimize stress may be at a lesser risk for periodontal diseases," she added.  
The review appears in the August issue of the journal of periodontalogy.
The brain is made up of anatomical sections and numerous circuits (the latter like railroad tracks). If, for example, the basal ganglia (the brain centres refining motor performance) and the pre-frontal cortex (a structural region at the front of the brain) are disrupted, there are three principal effects: depressed mood, observable PMD and cognitive problems.
Disruption of these circuits can occur in response to stress or even spontaneously. We can presume that certain neurotransmitters (these modulate mood and other mental states) have been 'turned off'. Many factors may influence neurotransmitter function.
In melancholic depression (and, less clearly in psychotic depression) there is often a family history of depression, suggesting a genetic influence. People with melancholic depression will commonly report a significant stress prior to their first, or first few, episodes. Subsequent episodes tend to appear more spontaneously and are less clearly related to stressful events. Therefore, certain genetic influences may create a vulnerability that initially requires a stress event to trigger the depressive state.
Physics provides a useful analogy with Hookes' Law, which states that if elastic objects are stretched within their limitations, they will 'bounce back' to their previous state. If, however, they are stretched beyond a certain point, their elasticity is lost. In melancholic depression, for example, it seems that initial elasticity allows the vulnerable individual to be unaffected by stressful events-for a period at least. However, once a formal episode has occurred, the elasticity is lessened and future episodes may occur without the individual being 'stretched' or 'stressed'. Vulnerability has been manifested and is no longer latent.
Certain drugs and some diseases can also act like environmental stressors, in that they have the capacity to disrupt some of the brain's neural circuits linking the basal ganglia and pre-frontal cortex (presumably by using differing pathways and affecting mechanisms). In older people, the effects of the aging brain may disrupt the circuits in other ways. There are parallels between these depressive conditions and Parkinson's disease (which causes changes in the basal ganglia and other parts of the brain), including depression and a movement disorder.
These parallels provide some understanding of biological depressive disorders such as melancholia. In psychotic melancholia, the disruptions in the brain's circuitry are more severe and extend to other brain circuits and regions, causing delusions and hallucinations as well as severe PMD.
The Mood Disorders Unit suspects that non-melancholic disorders are primarily caused by psychological processes reflecting an interaction between stress and the individual's personality. A central feature of 'depression' is loss of one's self-esteem (that is, thinking less of oneself or being increasingly self-critical). Any event, therefore, that impacts on an individual's sense of self-worth risks precipitating depression.
A common stress event to impact on self-esteem is the break-up of an intimate relationship. The event itself is irrelevant- it is the individual's response to the event that is crucial.
Consider an individual who responds to a marital break-up with, 'My wife has left me for another man as she thinks I'm a jerk, and everything recently just confirms what a hopeless human being I am.' Contrast this with somebody who says, 'My wife-what a jerk-has left me. Great. I can get on with life again.' The chance of developing depression is greater for the first respondent than the second. This is because the event differed in terms of its impact on each individual's self-esteem levels or because they 'processed' the event differently as a result of their differing personalities.
Stressful events can be acute (a marital break-up) or ongoing (a dysfunctional marriage), but both have an impact on an individual's self-esteem.
Many people who develop a non-melancholic disorder have such a low ongoing self-image, or their personality type is such, that any stressful event is likely to trigger depression. In a sense, some people actually create their own triggers. For example, a woman who thinks that everyone rejects her may misinterpret a remark at a party and become immediately and distinctly depressed.

---
Stay Connected with DG
---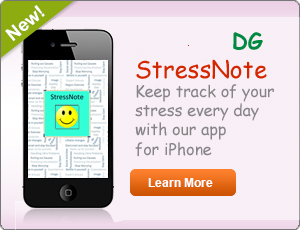 Categories
Recently Written
Archives