Foods that reduce Depression
If you find yourself feeling down, irritable, and depressed, you may change your eating habits because the food you consume influences the chemical flow in your brain. Certain foods have specific properties that stimulate certain glands and hormones to ignite happiness and contributing to your overall mood. Here are some foods that fight with depression:
 Iron rich foods
Depression is often occurring due to iron deficiency. Meat is the easiest and richest source of iron;  the main source include beef or chicken liver, oysters, turkey, salmon, lentils, beans, and spinach. Proper iron intake can reduce your depression level.
Foods Rich In Vitamin B
Vitamin B also improve mental and emotional well-being in several different ways. Certain B-complex vitamins decrease depression, lessen aggression, and help to reduce anxiety. Some foods high in vitamin B such as bell peppers, cabbage, asparagus, turmeric, garlic, salmon, bananas, celery, kale, and brussels sprouts.
Coconut
Coconut is also help to boost your mood. Coconut milk is a healthy complete fat that helps re-build tissue, improve body functions and help to reduce depression too. Fresh coconut contains certain fats that enhance your mood and coconut shavings boost your mood and also improve the health of your brain.
Vitamin C Rich Foods
Foods high in Vitamin C are important to the production of neurotransmitters in the brain. One study found that vitamin C enhanced the mood of patients who were hospitalized. The main source of vitamin C includes grapefruit, parsley, collard greens, lemon, guava, turnips, broccoli, red chili peppers, mustard greens, kiwi and strawberries.
Omega 3 Rich Food  
The food that is rich in Omega-3 help depression. The foods include flax seed, walnuts, mustard greens and collard, turnip, as well as dark green leafy vegetables. Although these foods do not provide as much omega 3 as the fish, but you can eat theses foods as an excellent alternatives of omega 3.
Eggs
Eggs are rich source of proteins, vitamin B, zinc and Omega 3. Eggs give you that boost of energy needed for an entire day's activity. This helps you maintain a healthy weight that is free of unhealthy indulgences. This makes you happier and helps to boost your mood.
Sweet Potatoes
Sweet Potatoes are carbohydrate food. This is not only good in taste but also contains folate and vitamin B6. These two things are known to support our brain's neurotransmitter's balance, so good for fighting depression.
Asparagus
Asparagus are high in folate, which is essential for keeping you cool. You can eat steamed asparagus, or can add to salads. You can eat as many as you'd like.
Chamomile tea
Chamomile helps you to get calm. A new study from the University of Pennsylvania tested chamomile supplements on some participants with generalized anxiety disorder for 8 weeks, and then found it led to a significant drop in anxiety symptoms. You can drink it in tea form. In addition to calming nerves, chamomile promotes sleep.
Whole grain
Good carbs help you fight sadness and depression. This is another reason why you should not fear carbhohydrates. Whole grain products have the essence of happiness.
A well rounded process
Part of the treatment of depression involves the use of body psychotherapy. This is a procedure that has been used by many people over the years as a means of supporting the ways how the human body and its functions can influence the behaviors that someone often engages in.
This involves reviewing the many relationships that a person's mental thoughts have with a number of different problems. This is often important as a means of helping to control the cause of depression.
What is reviewed?
The points that are reviewed in body psychotherapy involve physical motions and movements. These include ways how a person's body moves when getting into different kinds of actions. Body language is often read as a means of seeing if there are any aggressors involved with the activities that a person is dealing with.
Emotional and verbal expressions are also reviewed. This includes seeing how tones change as one speaks.
Sexuality is even covered. This includes taking a review in body psychotherapy on how well a person is going to respond to different stimuli and if any depression symptoms may be sexual in nature.
Relationships are essential
The key that is used here involves seeing all of the relationships that deal with the body and mind that relate to different functions. The big point about body psychotherapy is that it can involve many controls that involve seeing what types of events or problems might have led to depression or other mental disorders that a person is dealing with. It is an interesting point but it may still be essential when it comes to handling the problem of depression to keep it from being worse.
This may also be used regardless of the cause of depression. This is a big part of why sexual signs are often viewed. This is used because all physical activities in life may be factors for depression.
Studying relationships
Sometimes relationships with other people can cause depression to occur or to be worse than it could be. This is where bionomic psychotherapy may be used to help control one's mental processes. The use of bionomic psychotherapy works to help review how well a person's relationships are with other people.
How it is used
The process of bionomic psychotherapy involves a patient discussing relationships to a doctor. This includes all relationships that one has towards other people in all walks of life. This includes family members, people at work and neighbors among others.
The attitudes and feelings that are had towards others are discussed and reviewed. This can also include a full look at the ways how a person will feel comfortable with different people or actions in mind. In fact, some considerations that involve aggressive or sexual thoughts may be reviewed in a typical bionomic psychotherapy session to see if a person's attitudes are too much of a risk.
The review entails results
There are many cases where a full review in bionomic psychotherapy will involve a therapist taking a look at what could be the potential problem that might have been causing the depression to occur. This includes thinking about the way how depression may be adjusted to the point where it could be risky or hard to handle because of certain people.
The key is to see if there are any certain types of people that might be controlled as a means of dealing with certain problems involving certain people in one's life. There is a potential in bionomic psychotherapy that depression may be caused by a difficult person or group of people that someone is dealing with. Controlling relationships with certain people or even avoiding them altogether is often required in order to keep this controlled as well as possible before a person could be put at a further risk.
Control is key
One of the most interesting procedures that may be used for handling depression and mental disorders is biofeedback. This is a procedure that involves the body learning how to control itself. This uses a procedure where the body is connected to a series of sensors that are used to measure many points in the body. These include things like heart rate or body temperature.
The body is then trained to work with making changes to help control the body to reach certain feedback results. This works with relaxation in mind to help control the way how the body is responding to different stimuli and may work to keep the body secure.
Used for handling depression
Biofeedback is popular in that it may be able to work with controlling depression. This is because biofeedback is used to help teach a person how to work with controls that are used to help relieve the body of pains and irritation that might come from difficult thoughts.
This can also work for mental disorders that relate to anxiety or focus. The need to learn how to control one's body is important because it will help to keep one's worries at bay.
Does it work for everyone?
Biofeedback is useful in that it is not invasive and may work instead of many medications to help control the body to the point where it may feel a little more comfortable and prepared for different functions. It can also work with regards to giving anyone to ability to not only control mental concerns but to also control physical parts of the body.
However, there are a few points that need to be reviewed when it comes to biofeedback. It may be irritating to some people. Also, there are some risks that might involve different kinds of problems that relate to different functions that are rough or challenging to the point where one is not able to get signals read properly unless the sensors are attached properly.
A unique union
A vital process that is often used for controlling depression is bioenergetic analysis. This is a kind of analysis that involves the union of the mind and body together to form a fully functional union with each other. This is used to create a unique procedure that is impressive and works to help keep a person under control. It is an essential function that needs to be used and reviewed carefully when being treated for depression and many other kinds of mental disorders.
How it is reviewed
A therapist that works with bioenergetic analysis will handle different functions that relate to different kinds of points that involve the ways how a person acts. The body's expressions will involve different meanings and some holding patterns involved. These are used to help create an idea that involves the way how the body's energy is being used and how its feelings are being processed.
This is often used for analysis as a means of seeing if there is any sign of depressed behavior. It can also work with a discussion of the story that the client has to offer during this problem. This is an interesting point that may influence the way how the mind works.
The reviews are important
The process of a review in bioenergetic analysis is used to help determine if there are any tensions in the body as the movements are being handled. This includes any signs that suggest how a person may become depressed or irritated as a result of different problems that go on when telling one's story. The physical movements that a person makes are often used as a means of seeing if a person needs to deal with certain controls in order to keep depression controlled. This is an interesting yet vital approach that needs to be used when finding a way to handle depression.
Soldiers returning home from Iraq are found to be suffering from depression during their first months at home, according to a new study. The number of veterans sustained brain injuries at about 320,000. They are caused by the post traumatic stress disorder and severe Chronic Depression. The soldiers suffer from depression and alcoholism. The symptoms appears after a months. The adjustment struggle was more profound for the National Guard troops and reservists than it was for the active-duty soldiers.
According to the study conducted by the Walter Reed Army Institute of Research, about 42% of the Guard and reserves compared to 20% of active-duty soldiers needed mental health treatment in two screenings. The first testing was immediately after return from Iraq and the second after six months. Problems became more severe in the second screening with rise in interpersonal problems and difficulty in adjusting in home.
The study published in the Journal of the American Medical Association found that over 88,000 returning soldiers showed signs of depression, posttraumatic stress disorder, conflicts in relationship and other problems after six months. The screening techniques for stress disorders are improved vastly.
According to the study some active soldiers avoid the diagnosis of mental health, fearing the negative consequences diagnosed with a stress disorder or depression and about an 19.5% veterans receive a traumatic brain injury during the combat tour. The suicide rate of soldiers is going on increases in Iraq war veterans.
To cope with the problem the US army has created a training program called Battlemind that helps soldiers and their families to prepare for the stress of war and what signs of war to watch for. After returning they have rapid medical triage and treatment. There are lot of care are taken like connect with the returning veteran,connect veterans with each other and family care. Along with these some therapies are done like exposure therapy, pharmacotherapy.
Some soldier suffered from brain injury, stress disorder, or both. Mental disorder is more prevalent. The veterans returning from Vietnam and Operation Desert Storm had higher death rate than for veterans who had not served in theater. Many soldiers ends up using drugs.
Thousands of US soldiers and hundreds of UK soldiers have been diagnosed with PTSD and also related to the depression. Some soldiers avoid a diagnosis of a mental health problem, fearing negative result. They worry about their military careers and relationships with coworkers.
Treatment of Iraq war veterans suffering from depression
The clinicians do the work with veterans with chronic PTSD by using their skill and experience with those which are return from Iraq war. The veterans suffering from the trauma will required educating patients and families about traumatic stress reactions, teaching skills of anxiety and anger management, facilitating mutual support among groups of veterans, and working with trauma-related guilt will all be useful and applicable for that.
First Iraq war patients will not suffer from the mental disorder but they have been suffered from mental health. After diagnosis it is clear that the condition caused due to PSTD. The department of veterans provide them a necessary care.
During treatment it is found that the patients work with a psychologist to address their traumatic memory, revisiting and examining it again and again upto the emotional response connected. About 42% of the guard and 20% of active-duty soldiers needed mental health treatment in two screenings.
Conclusion – The soldier which are return after Iraq battle they suffer from the depression. It is due to stress disorder. The number of veterans sustain from brain injury. The study found many members who take treatment face a death of healthcare providers with expertise in war-related mental disorders.
Depression has its fallout on the physic of the depressed as signified in a series of researches. An Archive of Internal Medicine study found that women suffering from depression are more prone to bone loss from osteoporosis compared with women who are not clinically depressed. Osteoporosis is metabolic bone disease characterized by bone fragility and bone fracture.
Osteoporosis is also internal disorder. Some scientist said that osteoporosis is a silent disease. There is a strong relation between depression and osteoporosis. Both these causes due to chronic vitamin D deficiency. This chronic vitamin D deficiency causes depression and bones become brittle which causes to the osteoporosis. Osteoporosis causes due to loss of bone mass.
It is known that women are more prone to both depression and osteoporosis than men, with half of all women compared with only one in five men suffering from bone loss after the age of 50. Blood and urine samples indicate that depressed women had overactive immune system that produces higher level of chemicals that promote inflammation. A protein IL-6 is responsible for triggering bone loss. The connection between brain and skeleton influences the depression on bone mass.
The After bone mineral density researchers found 17% had thinner bones in the femoral neck compared with only 2% of women who were not depressed. In the lumber spine area of the body, 20% of depressed women had low bone mass compared with only 9% of non-depressed women.
Mostly the higher chances of depression causes due to abnormal hormonal activity. The higher chances of depression in women is mostly due to a combination of gender-related differences in cognitive styles, some biologic factors and a higher incidence of psychosocial and economic stresses in women.
What are the risk factors for osteoporosis in women?
High bone loss
Smoking
Depression
Low calcium intake
Lack of physical activity
Poor nutrition.
Soft drinks
What is the relation between depression and osteoporosis in women?
The women having mild depression have less bone mass than their nondepressed peers. The osteoporosis most prevalent bone disease causes due to high level of bone mass, smoking, low calcium intake and lack is physical activity. The depressed women have overactive immune system.
The women having ages 50 and over which regularly take antidepressants means selective serotonin reuptake inhibitors have double rate of fractures as the women which are not use such medications. The 17% women with depression show thinner hip bone while the 2% women with non-depression shows the same feature of bone thinness. This thinning of bones take place through out the life.
Depression is closely associated with increased risk for both low bone mineral density (BMD) and fractures. Depressed women has lower levels of inflammation fighting proteins than the control group. Mood and brain chemistry help to determine the strength of our bones.
In both condition depression and osteoporosis there is a common cause deficiency of Chronic vitamin D. The more idiotic media outlets are exposure that depression which causes to the osteoporosis. The depression causes to the loss of bone due to lack of calcium which increases the risk of osteoporosis.
Poor sleep also leads to the depression and associate with loss of bone which ultimately causes to the osteoporosis. Drug is not the treatment on this but reuptake of selective serotonin is common prescription for depression. Low level of cadmium is associated with an increased loss of bone mineral density. On research study indicate that the soft drinks can also increases the risk of osteoporosis.
Conclusion – The depression increases the high risk of osteoporosis. However, a question remains to be answered that whether the high rate of osteoporosis in depressed women can be attributed to their mental condition or it is the side effect of anti-depressant drugs taken by the women who participated in the study. The US study is silent on this issue.
Depression is illness in which children having sadness, hopelessness. Teenage depression is a bit difficult to handle as compared to depression in adults. Depression problem now a days appear in teens but it does not require any specialized treatment. The behavioral talk therapy is effective alternative to create new hope in depressed teens. On research it is conclude that kids on antidepressants have a higher rate of suicide ideation. Depression is a common problem generally associated with adults but recently it has become a big problem for teenagers as well. Depression symptoms which occur in teenagers and children includes irritability, unhappiness, despair, aggressive, short-tempered, often lack interest in enjoyable activities, aches and pains.
There are two causes of depression -
Unresolve grief – It causes due to death, loss of hopes and dreams and loss of relationship.
Emotional detachment – It causes due to fear and inability to connect with others.
Depression take place in teens because they feel very unhappy or sadness and cannot able to concentrate. It is vital to be conscious that up to 24% of teenagers undergo a main depressive illness permanent a few weeks to a few months at a few time. Depression in teenagers is frequently not recognized. You see real difference when you understand your child because in depression they want help and support of parents. Mostly teenage girls has high risk of depression. The depression in adult is differ than teens.
It is very difficult to communicate with teenagers when they feel very low and you cannot avoid or leave them to deal with their difficult situation. Depression in teenage is for a short time than the adults. A combination of cognitive behavior therapy and antidepressant drugs is a good way to ease depressive symptoms.
What are the treatment used for teens depression?
When your child is in problem never ignore them, always take it seriously.
Give confidence to your child and help them to think positive.
The talk therapy is more effective to decrease the depression in teens.
If they depressed then help them to find a right way.
SSRI medications, psychotherapy help to reduce the depression.
If your child is sad them ask several question.
For teenagers counseling or psychotherapy treatment. In this treatment talking regarding your thoughts, feelings and your behaviors.
Medication is helpful for depression.
Switching medications and adding behavioral talk therapy turned out to be the most effective alternative, although just switching medications also helped many individuals.
One caveat, however, is that there are few really good cognitive behavioral therapists out there, nor is there any way to distinguish clearly among them, Ripperger-Suhler stated. "To do cognitive behavioral therapy effectively you really need someone who is well-trained and there aren't very many," she said.
But other types of talk therapy might also be effective, she added.
Headache means pain and depression means sadness both are different but if any human being is suffer form both problem then it difficult to diagnosis. Headaches and depression both are just terrible. Headaches happen because of major depression. Everybody want a proper treatment for headache and depression.
The headache and depression both are complicated because headaches can lead to depression but those who suffer from depression absolutely they have the headaches problem. There are many type of headaches primary headaches which related with illnesses, tension, brain disorders, migraine headaches and cluster headaches. Headache occur because of more depression. Depression which extremely affects on your feelings, moods and causes physical problems. Depression occur when you are very sad or medical illness such as asthma or diabetes. Depression can take place once in a lifetime or it possibly ongoing on a constant basis. Depression is major problem for every human being and main symptoms of depression is headache.
Symptoms of Depression
Depressed mood with thoughts of helplessness, sadness and hopelessness.
Decreased enthusiasm.
Loss of interest in the normal enjoyable activities.
Difficulty in concentration.
Sleep disturbances.
Difficult in making any decisions.
In depression you lot your self-esteem.
Symptoms of Headache
Sinus nose diseases.
Tiredness.
Tension.
Stare angrily
Smoking and Stress.
Reactions of certain foods.
Hormonal imbalances.
Genetic predisposition.
Irritation in the neck muscles.
Low energy.
Noise.
Frequent thoughts of death.
Lack of confidence.
Chiropractic is most famous treatment for headache. Chiropractice treatment is use when human being is suffer from post-shocking, tension type and migraine headaches. Acupuncture is another treatment for headache. Biofeedback is called as relaxation therapies useful for those who suffer from migraine and also who suffer from headache pain. Exercise regularly will help you to reduce your stress. For constant headaches then please consult your physician. Aroma therapy and meditation both are helpful for headache and also for depression. Avoid continues taking pain relief drugs. Eat a healthy balanced diet which will maintain your health. Daily yoga also helpful for headache and depression.
A new study has raised the question whether or not too many people are being diagnosed as having depression. While Professor Gordon Parker, a psychiatrist from Australia says that the threshold for clinical depression is too low, Professor Ian Hickie says otherwise.
Prof Parker carried out a study, following 242 teachers. 15 years into the study, he noted that 79% of the people had met the symptom duration criteria for major, minor or sub-syndrome depression. This caused him to conclude that it is normal to be depressed, reports the BMJ. He also warned that over diagnosis of clinical depression could lead to a diagnosis of it becoming less creditable.
However, Prof Hickie states that if increased diagnosis and treatment has actually led to demonstrable benefits and is cost effective, and then it is not yet being over diagnosed. He insists that diagnosis and treatment has led to a reduction in suicides and increased productivity. He also adds that due to this, there has been a reduction in the stigma attached to being depressed. 

---
Stay Connected with DG
---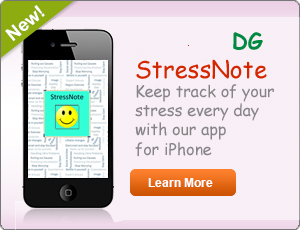 Categories
Recently Written
Archives