Before we come to know about the tonic and treatments for fatigue, let us know what fatigue is? Fatigue is a state or condition where the body is extremely tired and exhausted and demands rest at any cost. It is more or less like lethargy, where the body tends to be weak and the person feels sleepiness all the time.
There are many ways in which fatigue can be developed in the body. Few of the common ways in which fatigue develops is by Over work, Poor and less sleep, overexertion, tension, stress, nervousness etc. Fatigue can also be developed through illness or certain medication that makes the body weak. But the most important reason that causes Fatigue is STRESS.
Tonics for Fatigue Which Can Be Very Helpful In This Condition:
If you are getting less sleep or are not able to sleep or wake up shortly after sleep, then drink warm milk just before going to bed.
If sleep is good, but you are still feeling tired after waking up, include herbal tea in your breakfast. Also include high protein diet in your breakfast and at the same time make sure that you keep the fat level low.
Instead of having coffee, prefer Green tea.
Avoid heavy meals. Go for light and fat free meals.
Drink lemon tea at least two to three times a day.
Do a little bit work out. Instead of having dessert after meals or instead of taking rest after meals, it will be better if one goes for a walk.
Also try and wake up early and do some cardio vascular exercises. Proper circulation can also heal Fatigue to a great extent.
A well rounded process
Part of the treatment of depression involves the use of body psychotherapy. This is a procedure that has been used by many people over the years as a means of supporting the ways how the human body and its functions can influence the behaviors that someone often engages in.
This involves reviewing the many relationships that a person's mental thoughts have with a number of different problems. This is often important as a means of helping to control the cause of depression.
What is reviewed?
The points that are reviewed in body psychotherapy involve physical motions and movements. These include ways how a person's body moves when getting into different kinds of actions. Body language is often read as a means of seeing if there are any aggressors involved with the activities that a person is dealing with.
Emotional and verbal expressions are also reviewed. This includes seeing how tones change as one speaks.
Sexuality is even covered. This includes taking a review in body psychotherapy on how well a person is going to respond to different stimuli and if any depression symptoms may be sexual in nature.
Relationships are essential
The key that is used here involves seeing all of the relationships that deal with the body and mind that relate to different functions. The big point about body psychotherapy is that it can involve many controls that involve seeing what types of events or problems might have led to depression or other mental disorders that a person is dealing with. It is an interesting point but it may still be essential when it comes to handling the problem of depression to keep it from being worse.
This may also be used regardless of the cause of depression. This is a big part of why sexual signs are often viewed. This is used because all physical activities in life may be factors for depression.
Studying relationships
Sometimes relationships with other people can cause depression to occur or to be worse than it could be. This is where bionomic psychotherapy may be used to help control one's mental processes. The use of bionomic psychotherapy works to help review how well a person's relationships are with other people.
How it is used
The process of bionomic psychotherapy involves a patient discussing relationships to a doctor. This includes all relationships that one has towards other people in all walks of life. This includes family members, people at work and neighbors among others.
The attitudes and feelings that are had towards others are discussed and reviewed. This can also include a full look at the ways how a person will feel comfortable with different people or actions in mind. In fact, some considerations that involve aggressive or sexual thoughts may be reviewed in a typical bionomic psychotherapy session to see if a person's attitudes are too much of a risk.
The review entails results
There are many cases where a full review in bionomic psychotherapy will involve a therapist taking a look at what could be the potential problem that might have been causing the depression to occur. This includes thinking about the way how depression may be adjusted to the point where it could be risky or hard to handle because of certain people.
The key is to see if there are any certain types of people that might be controlled as a means of dealing with certain problems involving certain people in one's life. There is a potential in bionomic psychotherapy that depression may be caused by a difficult person or group of people that someone is dealing with. Controlling relationships with certain people or even avoiding them altogether is often required in order to keep this controlled as well as possible before a person could be put at a further risk.
A unique union
A vital process that is often used for controlling depression is bioenergetic analysis. This is a kind of analysis that involves the union of the mind and body together to form a fully functional union with each other. This is used to create a unique procedure that is impressive and works to help keep a person under control. It is an essential function that needs to be used and reviewed carefully when being treated for depression and many other kinds of mental disorders.
How it is reviewed
A therapist that works with bioenergetic analysis will handle different functions that relate to different kinds of points that involve the ways how a person acts. The body's expressions will involve different meanings and some holding patterns involved. These are used to help create an idea that involves the way how the body's energy is being used and how its feelings are being processed.
This is often used for analysis as a means of seeing if there is any sign of depressed behavior. It can also work with a discussion of the story that the client has to offer during this problem. This is an interesting point that may influence the way how the mind works.
The reviews are important
The process of a review in bioenergetic analysis is used to help determine if there are any tensions in the body as the movements are being handled. This includes any signs that suggest how a person may become depressed or irritated as a result of different problems that go on when telling one's story. The physical movements that a person makes are often used as a means of seeing if a person needs to deal with certain controls in order to keep depression controlled. This is an interesting yet vital approach that needs to be used when finding a way to handle depression.
What this therapy is about
One unique form of therapy that can work to help control mental disorders is brief therapy. This is a kind of therapy where it focuses on a direct control of a specific problem that is causing a mental disorder to be prevalent. This works with a direct approach to help control a disorder to make it easier for a person to potentially be controlled.
The essential point about this is that it works to try and get a mental disorder reviewed and controlled sooner. This may work to help improve a person's mental health in the long run.
Why this therapy is popular
The big point about the use of brief therapy is that it is used to help find a problem as soon as possible. This works less with the problem of a mental disorder in mind and more with controlling the cause of the problem and seeing what can be done to help with keeping it under control. This is an interesting point that shows how well a person's mental condition can be adjusted.
Does it work?
There are some reports that suggest how brief therapy may work to help control a person's phobia or other fear or mental disorder relating to anxiety in a week's time. This is a great point that might be useful for anyone who needs to get a crippling mental block from taking over one's life.
The interesting thing about brief therapy is that it may work to control depression. It is possible for depression to be controlled through brief therapy in about a month's time. This is needed because it will work to help with improving a person's self esteem over a good period of time. It can be used as a means of helping to keep the problem from being worse and could be used in some of the more severe cases of depression.
Stress is the bane of today's society and plays havoc on our physical and mental makeup. Psychological stress activates the adrenal glands to discharge stress hormones called cortisol, which help us survive the stress but are harmful to our health. When a person is exposed to prolonged periods of stress, he can develop ailments like high blood pressure, stomach ulcers, cancer and various immune disorders such as rheumatoid arthritis, depression etc.
Food has a profound effect on both mind and body. Health is a reflection of our physical, mental, emotional and spiritual well being. A person with a disturbed mind cannot have a healthy body because the mind is the monitor of our physical health. Research at the National Institutes of Health in the USA has been looking at how stress affects the mind and body. One of the scientists, Dr. Pamela Peeke, focussed her work on the relationship between stress and weight gain. It was found that people who are stressed out often turn to food for solace, and eat more than normal. Dr. Peeke found that the stress released fat accumulation can begin in people as young as 20.
Stress is one of the largest killers of mankind, today. It is the cause of most of our illnesses, whether physical or mental. Stress has a very negative impact on our digestive system. The body can assimilate the nutrients from food only when the mind is in a relaxed condition. No matter what you eat, if the mind is disturbed, your body will not gain any benefits from the nutritive components of your food.
There are, however, a few foods that help the body cope with the demands made by stress. When the body is under stress the demand for nutrients is more as key nutrients are burned up faster. In order to derive the maximum benefits from a nourishing diet, one needs to follow three essential steps-
• Eat under a stress-free and pleasant atmosphere.
• Eat just enough to repress hunger; overeating can be hazardous. Overload the digestive system by overeating and it will make you lethargic, sleepy and inactive.
• In case you suffer from excessive stress, eat foods that counteract stress.
Emotional equilibrium is a state of stable balance, such that any disturbance from outside tends to be corrected.
Let's assume that everyone has an internal 'regulating machine' that requires 'resetting' after an upsetting event, but the great majority return to emotional equilibrium within days (that is, they have a 'normal' depressed mood state). Some people, however, are unable to reset their mechanism easily, thus losing their 'emotional equilibrium'. They remain essentially 'stuck'. Their personality styles and ways of dealing with events 'sustain' the depression, rather than enabling them to 'get over it'.
So how can equilibrium be lost? There are two main ways:
1. The machinery can fail; for example, if the keel on a yacht breaks off, the yacht will capsize.
2. A 'positive feedback loop' can develop. This means that two or more factors can influence each other to such a degree that a small disturbance leads to a further disturbance. This loop is sometimes also called a 'vicious circle'. An example of feedback occurs when a microphone is put too close to a speaker. A small noise from the speaker is amplified into the mike, and further amplified by the speaker. While the feedback loop can be of use to create musical effects, such reverberation (mulling over and rumination) is not useful for humans.
Meditation, which originated in India, had an almost twenty-five-hundred-year run as a physical and mental health booster and then was stopped dead by modern medicine. Until, that is about thirty years ago when DR. Herbert Benson coined the term "relaxation response." Since then it has been gaining ground. In 1998 Congress gave the NIMH $10 million to expand a network of mind-body research centers and provide training for health workers in a variety of meditative approaches.
The purpose of meditation, one popular version of which is called "mindfulness," is to open the mind to sensations and thoughts and temporarily tune out everyday life. Not only does this induce calm, it also can bring about specific, quantifiable changes in the body. Most who consistently practice meditation feel different and better afterward, but a least five people now have provided specific proof that something beneficial has in deed happened.
In a 1999 study conducted by a Harvard team of researchers, five accomplished meditators spent about forty minutes in an MRI (magnetic resonance imaging) machine, started at a dot on a computer screen, thought up random list of animals, and mediated. The resulting pictures of their brains showed that the regions that process positive emotions and influence cardio-respiratory function were most active during the meditation.
Check out more about alternative therapy.
We have already told you in an earlier issue, that curcumin (a component of turmeric and cumin seeds) could break up plaques formed by beta-amyloid deposits in the brains of genetically altered lab mice. Such plaques are a hallmark of Alzheimer's disease. When the researchers added small amounts of curcumin to human beta-amyloid proteins in a test tube, the compound kept the proteins from accumulated to from the fibers that comprise the plaques. Reporting in the Journal of Boilogical Chemistry, the UCLA research team said curcumin was more effective in inhibited plaque formation than some drugs being tested as Alzheimer's treatments. Curcumin's low molecular weight and structure allows it to penetrate the blood-brain barrier and bind to beta-amyloid.
Curcumin has been used for thousands of years as an anti-inflammatory in traditional Indian medicine to treat a variety of ailments. It appears to counter the oxidative damage and inflammation that occurs in response to amyloid deposits, the UCLA researchers sat. Apart from Alzheimer's disease, curcumin is under study in cancer and heart disease and animal studies suggest it may also help treat multiple sclerosis and cystic fibrosis. According to the researchers no spice has ever looked more promising.
To cope with stress and depression related ailments, it is advisable to avoid continuous use of drugs. For headache, backache, etc. non-drug methods are more useful and safe, if pursued with will and determination. 
How to reduce stress? 
Relaxation techniques: It is a form of meditation, an innate response against external forces causing srain. For this a calm and quiet environment is needed to give the mind some tranquil sensation. Mind should be focussed on eliminating factors causing strain. Sit in a calm and quiet place comfortable in the open or in a well-ventilated airy room. Close the eyes. The body should be let loose, relax muscles fully from head to toe. Give a thought to the circumstaces causing strain and give auto suggestion for remedy. Imagine, that you are capable of tackling the problems/worries and these will disappear. relax and calm down. 

Exercise: A 2-3 kilometre walk in the morning or in the evening is a godd exercise. In case of paucity of time, simple manipulative exercise may be done to keep the body fit and active. 

Accupuncture as relaxing method 

Constipation: It causes headache and stress. A glass of water should be taken slowly after getting up from bed in the morning. The food should be light and fibery and sufficient pure water may be taken during the day. 

Organizational stress: Organisational worries may also be a cause for strain. The problem, causing such strains amy be analysed and efforts should be made to remove the factors causing such strains may be analysed and efforts should be made to remove the factors causing the strain. Everything should be tackled in a calm and quiet manner and negotiating skills may be used for help from superiors. It is also the duty of the organisation to see that no officer is forced to work under stress, as it affects the efficient working of the organisation. 
5 Ways to Relieve Stress
Managing Holiday Stress  

---
Stay Connected with DG
---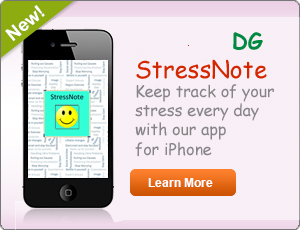 Categories
Recently Written
Archives