Adapin
Tweet
---
Other Name: Doxepin, Sinequan
Drug Class: Antidepressant, Tricyclic
Uses of Adapin:
Adapin (Sinequan, Doxepin), an antidepressant (mood elevator), is used to treat depression and anxiety. Adapin also is used occasionally to treat chronic pain, peptic ulcer disease, and some skin conditions. Talk to your doctor about the possible risks of using this drug for your condition.
This medication is sometimes prescribed for other uses; ask your doctor or pharmacist for more information.
How to Take Adapin:
Take this medicine as directed. It can be taken with or without food. Take this medicine at even intervals about the same time each day. This medicine is taken orally and may be taken with food to avoid stomach upset. Do not stop taking this medicine abruptly without consulting with your doctor.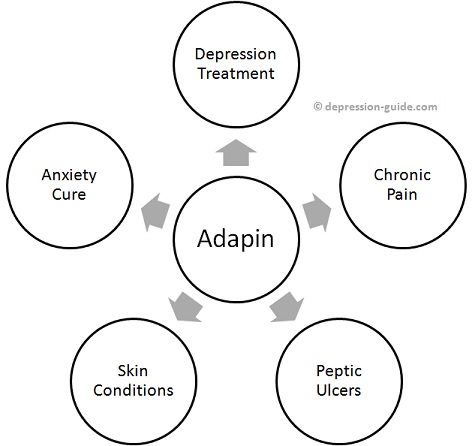 Side Effects of Adapin:
Some common side effects reported with this medicine include:
Drowsiness
Weakness or tiredness
Excitement or anxiety
Insomnia
Nightmares
Dry mouth
Skin more sensitive to sunlight than usual
Changes in appetite or weight
Warnings and precautions for Adapin:
Adapin should not be taken while taking any other antidepressant, particularly an MAOI.
Talk with your physician or pharmacist if you are taking other medications.
Tell your doctor and pharmacist if you are allergic to Adapin or any other drugs.
Tell your doctor and pharmacist what prescription and nonprescription drugs you are taking especially anticoagulants; antihistamines; cimetidine; estrogens; fluoxetine; levodopa; lithium; MAO inhibitors, tranylcypromine; medication for high blood pressure, seizures, Parkinson's disease, diabetes, asthma, colds, or allergies; methylphenidate; muscle relaxants; oral contraceptives; sedatives; sleeping pills; thyroid medications; tranquilizers; and vitamins.
Tell your doctor if you are pregnant, plan to become pregnant, or are breast-feeding. If you become pregnant while taking Adapin, call your doctor immediately.
This medicine may cause dizziness or drowsiness. Alcoholic beverages can increase the side effects of this medicine and should be avoided.
Do not drive a car or operate machinery until you know how this drug affects you.
What to do if you take Overdose of Adapin?
Seek medical attention immediately. For non emergencies, contact your local or regional poison control center.
What to do if you take Missed Dose of Sinequan?
Take your next dose as soon as you remember. If it is time for your next dose, skip the missed dose and go back to your regular schedule. Do not take a double dose to make up for a missed one.
How to Store Sinequan:
Keep this medication in the container it came in, tightly closed, and out of the reach of children. Store it at room temperature and away from excess heat and moisture (not in the bathroom). Throw away any medication that is outdated or no longer needed. Talk to your pharmacist about the proper disposal of your medication.


Sometimes crying or laughing
are the only options left,
and laughing feels better right now.


Alphabatical list of Medicines