Tryptizol benefits and side effects
Tweet
---
Generic Name: Amitriptyline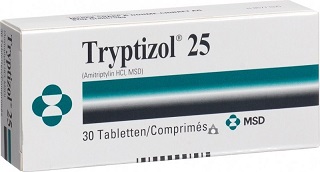 Brand Name: Celexa
Uses of Tryptizol:
Tryptizol (Amitriptyline), an antidepressant, is used to treat depression. It may also be used to treat chronic pain and eating disorder. May help alleviate anxiety component of depression.
Since Tryptizol is a tricyclic antidepressant, it tentatively works by stopping the reuptake of various neurochemicals. This medication is sometimes prescribed for other uses; ask your doctor or pharmacist for more information.
How to Take Tryptizol:
Take this medicine as directed. It can be taken with or without food. Do not stop taking this medicine abruptly without consulting with your doctor.
Side Effects of Tryptizol:
There are multitude of side effects which many people taking Tryptizol experience. But most of them are mild in nature and can include dry mouth or constipation, etc. These side effects go away with time. You also might become sensitive to sun radiations and should avoid direct sunlight in the afternoon. You can rely on good sunscreen and UV protected clothing. You might experience some loss in your sexual desires, but you can reach out your Doctor for the same and check some corrective actions if needed.
Some common side effects reported with Tryptizol medicine include:
dry mouth,
blurred vision,
urinary retention,
constipation,
palpitations,
Weight loss or gain.
Tinnitus,
drowsiness,
nervousness,
insomnia,
Hypotension,
dizziness,
rash sweating,
confusion,
mania,
psychosis,
heart block
Warnings and precautions for Tryptizol:
Not to be given concomitantly with MAOIs; discontinue MAOI therapy at least 14 days before starting Tryptizol.
Not recommended for depressed patients < 12 years of age.
Tryptizol should be used with caution in patients with a history of seizures, impaired liver function, a history of hepatic damage or blood dyscrasias and in patients with a history of urinary retention, or with narrow-angle glaucoma or increased intraocular pressure.
Discontinue Tryptizol several days before elective surgery.
What to do if you take Overdose of Tryptizol?
Seek medical attention immediately. For non emergencies, contact your local or regional poison control center.
What to do if you take Missed Dose of Tryptizol?
Take your next dose as soon as you remember. If it is time for your next dose, skip the missed dose and go back to your regular schedule. Do not take a double dose to make up for a missed one.
How to Store Tryptizol:
Keep this medication in the container it came in, tightly closed, and out of the reach of children. Store it at room temperature and away from excess heat and moisture (not in the bathroom). Throw away any medication that is outdated or no longer needed. Talk to your pharmacist about the proper disposal of your medication.


Sometimes crying or laughing
are the only options left,
and laughing feels better right now.


Alphabatical list of Medicines