Prothiaden (Dothiepin, Dosulepine) benefits & side effects
Tweet
---
Generic Name: Dothiepin
Different Brand Names: Prothiaden, Dosulepine, Altapin, Depresym, Dothapax, Dothep, Prepadine, Protiaden, Protiadene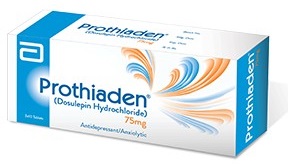 Drug Class: Antidepressant, TCA
This drug works by stopping the serotonin and noradrenaline from getting reabsorbed in the nerve cells. This ensures that these hormones are present for longer time giving enhanced mood lightening effects. There are very little side effects and generally a lighter medicine which works in very mild to mild cases of anxiety and depression.
Uses of Prothiaden
Prothiaden is used to treat depression. Prothiaden (Dothiepin Hydrochloride) is a tricyclic antidepressant which has anxiolytic properties.
This medication is sometimes prescribed for other uses; ask your doctor or pharmacist for more information.
How to Take Prothiaden:
Take this medicine as directed. Do not stop taking this medicine abruptly without consulting with your doctor.
Side Effects of Prothiaden:
Some common side effects reported with this medicine include:
dry mouth,
metallic taste,
constipation,
urinary retention,
pupillary dilatation with blurred vision
drowsiness, nervousness and insomnia, headache,
peripheral neuropathy tremor, orthostatic hypotension, occasionally hypertension,
dizziness, sweating, weakness and fatigue,
speech difficulties,
nausea and vomiting
Warnings and precautions for Prothiaden:
At the time of initiation of therapy patients should be advised not to drive a motor vehicle, climb dangerous heights or operate dangerous machinery, for at least several days. In these situations impaired decision making could lead to accidents.
Talk with your physician or pharmacist if you are taking other medications.
Safety in pregnancy and lactation has not been established.
PROTHIADEN should not be given concurrently or within 14 days of treatment with MAO inhibitory medicine.
It is inadvisable to use catecholamine-containing local anaesthetics in patients receiving PROTHIADEN.
It is inadvisable to give PROTHIADEN to patients with recent myocardial infarction or a cardiac arrhythmia.
What to do if you take Overdose of Prothiaden?
Seek medical attention immediately. For non emergencies, contact your local or regional poison control center.
What to do if you take Missed Dose of Prothiaden?
Take your next dose as soon as you remember. If it is time for your next dose, skip the missed dose and go back to your regular schedule. Do not take a double dose to make up for a missed one.
How to Store Prothiaden:
Keep this medication in the container it came in, tightly closed, and out of the reach of children. Store it at room temperature and away from excess heat and moisture (not in the bathroom). Throw away any medication that is outdated or no longer needed. Talk to your pharmacist about the proper disposal of your medication.


Sometimes crying or laughing
are the only options left,
and laughing feels better right now.


Alphabatical list of Medicines