Guanfacine hydrochloride for ADHD (tenex)
Tweet
---
Other Name: Tenex
Category: Antihypertensive
Uses of Guanfacine (GWAHN-fa-seen) :
Guanfacine belongs to the general class of medicines called antihypertensives. It is used to treat high blood pressure (hypertension) but that may also be helpful in reducing ADHD symptoms. Like another antihypertensive drug, Catapres etc. (Clonidine), Guanfacine regulates levels of the neurotransmitter norepinephrine and may be effective in reducing ADHD symptoms alone or in combination with stimulants. They also may be used as an alternative to stimulant medication, especially in the 30% of children who cannot tolerate stimulants and in children with conduct problems. However, antihypertensives may not improve attention deficit or distractibility. Guanfacine may also reduce symptoms of aggression and reduce the insomnia associated with stimulants.
Guanfacine works by controlling nerve impulses along certain nerve pathways. As a result, it relaxes blood vessels so that blood passes through them more easily. This helps to lower blood pressure.
This medication is sometimes prescribed for other uses; ask your doctor or pharmacist for more information.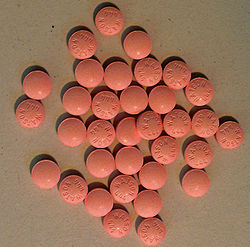 How Guanfacine affects the nervous system?
Guanfacine activates the central nervous system which leads to lowering both systolic and diastolic blood pressure. This further results in reduced peripheral sympathetic outflow and thus a reduction in peripheral sympathetic tone. Guanfacine treats high blood pressure by decreasing heart rate and relaxing the blood vessels so that blood can flow more easily through the body.
Guanfacine and ADHD
Guanfacine tablets are used alone to treat high blood pressure. They are also used to control symptoms of attention deficit hyperactivity disorder (ADHD). Guanfacine is in a class of medications called centrally acting alpha2A-adrenergic receptor agonists. Guanfacine extended-release tablets treats ADHD by affecting the part of the brain that controls attention and impulsivity. Guanfacine comes as a tablet and as an extended-release tablet to take by mouth.
U.S. Brand Names
Intuniv™
Tenex®
Index Terms
Guanfacine Hydrochloride
Guanfacine for ADHD and Tics disorders like Tourette's syndrome
Guanfacine is pharmacologically similar to clonidine. In a controlled trial of children with ADHD plus tics like Tourette's syndrome, guanfacine improved symptoms in both domains, though the improvements in attention fell short of what is generally seen with standard medications. Side effects are similar to those of clonidine, though guanfacine is less sedating.
Research published in the Journal of Psychiatry (July, 2001) concluded that guanfacine appears to be a safe and effective treatment for children with tic disorders and ADHD. In the study, guanfacine was associated with a mean improvement of 37% in the total score on a teacher-rated ADHD Rating Scale, compared to 8% improvement for placebo after 8 weeks of treatment.
How to Take Guanfacine:
Take this medicine as directed. It can be taken with or without food. Do not stop taking this medicine abruptly without consulting with your doctor.
The tablet is usually taken once a day at bedtime.
The extended-release tablet is usually taken once a day
The medicine should not be taken with a high fat meal.
Take guanfacine at around the same time every day.
Follow the directions on your prescription label carefully. Ask your doctor or pharmacist to explain any part you do not understand.
Do not take more or less of it or take it more often than prescribed by your doctor
Side Effects of Guanfacine:
Some common side effects reported with this medicine include:
difficulty breathing
closing of your throat
swelling of your lips, tongue, or face
hives
depression
very slow heart rate (fewer than 60 beats per minute)
unusually high or low blood pressure (fainting, a severe headache, flushing of your face)
unusual fatigue, dizziness, or tiredness
headache
dry mouth
constipation
insomnia
constipation, nausea, vomiting, or diarrhea
Warnings and precautions for Guanfacine hydrochloride
Do not take other medicines unless they have been discussed with your doctor . This especially includes over-the-counter (nonprescription) medicines for appetite control, asthma, colds, cough, hay fever, or sinus problems, since they may tend to increase your blood pressure.
Check with your doctor before you stop taking guanfacine. Your doctor may want you to reduce gradually the amount you are taking before stopping completely.
Guanfacine will add to the effects of alcohol and other CNS depressants (medicines that slow down the nervous system, possibly causing drowsiness). Some examples of CNS depressants are antihistamines or medicine for hay fever, other allergies, or colds; sedatives, tranquilizers, or sleeping medicine; prescription pain medicine or narcotics; barbiturates; medicine for seizures; muscle relaxants; or anesthetics, including some dental anesthetics. Check with your doctor before taking any of the above while you are using this medicine .
Before having any kind of surgery (including dental surgery) or emergency treatment, tell the medical doctor or dentist in charge that you are using this medicine.
Make sure that you have enough guanfacine on hand to last through weekends, holidays, and vacations. You should not miss any doses. You may want to ask your doctor for another written prescription for guanfacine to carry in your wallet or purse. You can then have it filled if you run out when you are away from home.
What to do if you take Overdose of Guanfacine?
Seek medical attention immediately. For non emergencies, contact your local or regional poison control center.
What to do if you take Missed Dose of Guanfacine?
Take your next dose as soon as you remember. If it is time for your next dose, skip the missed dose and go back to your regular schedule. Do not take a double dose to make up for a missed one.
How to Store Guanfacine:
Keep this medication in the container it came in, tightly closed, and out of the reach of children. Store it at room temperature and away from excess heat and moisture (not in the bathroom). Throw away any medication that is outdated or no longer needed. Talk to your pharmacist about the proper disposal of your medication.


Sometimes crying or laughing
are the only options left,
and laughing feels better right now.


Alphabatical list of Medicines