ICD 11 - The International Classification of Diseases 11th Revision due in 2015
Tweet
---
What is ICD or International Classification of Diseases?
International Classification of Diseases or ICD is the global health information standard for maintaining the mortality and morbidity data. The main idea of this initiative is to help monitor rate of death and diseases worldwide. Today more than 100 countries use this ICD system to report mortality data. It further indicates the health status of the nation as well as the world. The uses of ICD is in the field of clinical research and care to define diseases and to study their patterns. It also helps to manage health care, check the outcomes and assign resources to disease prevention.
The ICD has been translated in more than 40 languages and currently the 11th revision is under prcess to finalize the ICD 11, which will be released in year 2015.
The purpose of using ICD - Its Uses
The ICD international standard is the common way to share data and distribution of the diseases and its mortality. It helps countries in reporting data related to diseases and health conditions, further helping to compare health information in a common language.
It is the diagnostic classification approach for all diseases related clinical and research data. Some of the sample uses of the ICD data is as follows:
Monitoring of the incidence of diseases
Monotoring the prevalence of diseases
Observing reimbursements and resource allocation for the dieases and their trends,
Keep track of safety and quality guidelines
It helps in counting the number of deaths as well as diseases, injuries, symptoms, etc.
It captures the factors which contributes towards health status
ICD helps capture the external causes of diseases.
Brief History of ICD
The start of ICD goes back to year 1893, when the International Statistical Institute adopted the first international classification edition which was known as International List of Causes of Death. The ICD has been undergoing revision and there are numerous editions published to capture the health and medical science advancements.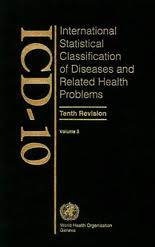 World Health Organization also trusted ICD at its creation in 1948. The WHO Nomenclature Regulations, was also adopted in 1967 which made the member nations mandatory to use ICD for reporting all the health and disease related data.
ICD-10, the currently accepted version was endorsed in May 1990 by the Forty-third World Health Assembly.
The 11th version of ICD known as ICD-11 or ICD 2015, is undergoing development. This will continue for another 3 years and will be completed in 2015 for complete assimilation by the world over. ICD-11 will be ready to use with electronic health records and information systems.
It is being postulated to integrate the ICD 11 with electronic health records and information systems inorder to make them fit for the future world. This time any of the public health users, stakeholders and others can provide input to the beta version of ICD 11.
What are the postulated changes in ICD 11?
For the first time, ICD-11 revision process is collaborative in nature. This means that there is collaborative web-based editing that is open for all interested people or organizations.
There will be a peer review prcess to enhance the accuracy and relevance of the proposed contents and changes.
It will be freely available as a download online for personal use
Since, ICD is now a globally accepted standard, it will be available in more than 50 languages.
A new structured way will be postulated for capturing the data on disease definitions, signs and symptoms, and other content related to diseases for ensuring more accuracy.
It will be made easy to integrate with electronic systems and information systems.
Can I contribute to ICD 11?
To start contributing and help building the ICD 11, register for a participant account on the ICD web portal. This portal will be open for changes and your comments for the next 3 years. The changes which are suggested and reviewed successfully, will be reflected in ICD immediately.Registration will help you do the following things:
You can write comments on different types of content available in ICD
You can write proposals for chaging the base or advanced categories in ICD
You can write new definitions of diseases or even write information on new diseases.
You can be part of testing and also contribute in translating into different languages.


Sometimes crying or laughing
are the only options left,
and laughing feels better right now.


Depression Articles