Michael Phelps Rio 2016, wins 200 IM for fourth consecutive Olympics
Tweet
---
Michael Phelps won a 22nd Olympic gold and 26th medal in all with victory in the 200 metres individual medley on Thursday night. The 31-year-old American, who plans to retire after the Rio Olympics, broke a 2,168-year-old record for the most all-time individual Olympic titles with the victory.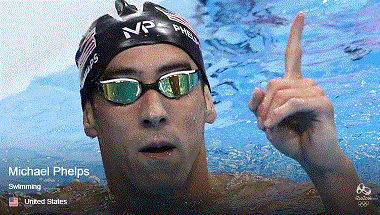 You can't put a limit on anything. The more you dream, the farther you get.
I think that everything is possible as long as you put your mind to it and you put the work and time into it. I think your mind really controls everything.
Swimming is normal for me. I'm relaxed. I'm comfortable, and I know my surroundings. It's my home.
When Michael Phelps was little kid he has some kind of mental illness. He had ADHD and he was made fun of in elementary school, he always built like a swimmer but swimming has always helped calm him down and he was diagnosed in kindergarten. Michael Phelps received his record-setting eighth gold medal at the Beijing Olympics, and provides a symbol of hope to the estimated four million American children who are also afflicted with Attention Deficit Hyperactivity Disorder (ADHD).
Michael's mother, Debbie Phelps, always knew he was very energetic. When Michael's kindergarten teacher told her, "Michael can't sit still, Michael can't be quiet, Michael can't focus," she told the teacher that maybe her son was bored. The teacher replied, "That's not possible. Your son is not gifted. He will never be able to focus on anything."
But Michael was able to channel his energies into swimming, becoming the youngest male world record holder in modern sports at the age of 15. He is a great example to us that inspite of his illness, he was able to achieve something very hard to do--EIGHT GOLD MEDALS in one Olympic cycle.
Want to know more on ADHD?
ADHD is a medical condition caused by genetic factor that result in certain neurological differences. ADHD is one of the most common childhood brain disorders, affecting about seven percent of children aged 6 - 17. It does not consistently affect the exact same areas of the brain from child to child. The parts of the brain that are affected include the frontal lobes which help us concentrate, make wise decisions, remember what we've learned and regulate our impulses, the limbic system, and the inhibitory mechanisms of thecortex.
What helped Michael Phelps with ADHD?
Mr. Phelps's mother, Deborah Phelps, is a school principal in Baltimore who also says that children with A.D.H.D. have great potential if parents are willing to help them with structure and scheduling, behavior modification and accentuating their positive traits. Phelps struggled in school, but the discipline he lacked in classes he cultivated in the pool. In sixth grade, he was able to stop taking his stimulant medication and continue thriving, using the structure that swimming provided to harness his focus.
As in the case of Michael Phelps, the children with ADHD can show significant improvement with medication and behavioral therapy. Medication is the first-line treatment for this illness, but behavioral therapy is vital in reducing symptoms and improving function. Chances of overcoming ADHD are better when parents participate in the treatment of their children.
Michael Phelps said that "I am not perfect, just like every human being. I have my mistakes and weaknesses. "But he keeps up the great work and some of the greatest people in the history of mankind who had mental illness.
Mr. Phelps obviously has physical talents that propelled him to become a world-class athlete. But A.D.H.D. success stories like Mr. Phelps are behind a push for a new view of A.D.H.D. that focuses not just on the limit of the disorder, but it's potential.


Sometimes crying or laughing
are the only options left,
and laughing feels better right now.


Most Read on Celebrities