Princess Diana had Depression and Bulimia
Tweet
---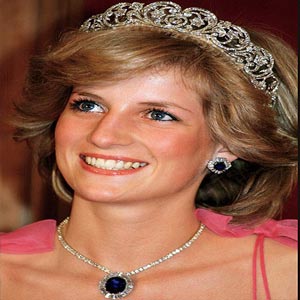 Diana, Princess of Wales, known as Diana Frances Spencer earlier was born on 1 July 1961. She was the first wife of Prince Charles, Prince of Wales, to whom she had married on 29 July 1981. She became the member of the British Royal Family. She died in a fatal car accident in the year 1997. Her wedding to Prince Charles who is the next in line to the British Throne, was held at St Paul's Cathedral. The wedding was so grand that it was global event with the television viewership of the wedding at about 750 million globally.
The Famous Princess Diana - Known World Over
Late Princess Diana was very famous and well known celebrity of international repute because of her fund-raising work for international charities. While she was married to Prince Charles, she bore the following courtesy titles:
Princess of Wales
Duchess of Cornwall
Duchess of Rothesay
Countess of Chester
Baroness of Renfrew.
Her marriage with Prince Charles had produced two sons, the princes William and Harry who are currently second and third in line to the British throne, respectively.
Diana's Repute
Diana was nicknamed as the 'Princess of Hearts' by her fans since she was very famous for her caring nature and selfless support to the Charities across the globe.
Lady Diana belonged to a aristocratic English family and had royal ancestry. Her recognition in the media and news started after the announcement of the engagement to Prince Charles. Diana was phenomenal in supporting her charity work around the International Campaign to stop Land mines. She held many titles for the charity and other philanthropic work. She was president of the Great Ormond Street Hospital for children. Apart from that she held the President title in around 10 plus other charities. There was a huge public mourning internationally after she died in a car crash in Paris on 31 August 1997.
Early signs of Issues for Diana
The larger than life, fairy tale kind of wedding of Princess Diana and Prince Charles was not a long one. Both of them shown the reports of infidelity and the two became estranged over the years.
During their marriage years, Diana struggled with some form of depression and bulimia. The celebrity couple separated and the separation decision was announced by Prime Minister John Major. He read the statement from the royal family to the House of Commons.
A book Claiming Diana's Depression
A book published by author Penny Junor claimed that Diana suffered from several mental illnesses. These mental illnesses like depression were hidden from the royal family. It was too late the problems came to limelight. The book stated that within days after her engagement with Prince Charles, Diana changed from a happy teenager into a volatile stranger.
Junor stated that Diana suffered from mood swings which often a times were violent and unnerving. She was unpredictable in her mood, with her behaviour changing within a blink of an eye. She would go on to become furiously angry and screaming from being cheerful and funny.
There were some mentions about the dual nature of Diana, which stated that Diana was warm and kind only when she was facing public. When she was away from the limellight, the family could see her mood swings.


Sometimes crying or laughing
are the only options left,
and laughing feels better right now.


Most Read on Celebrities